Contact Information
Address
Wausau Homes Beloit
310 State Street
Beloit, Wisconsin 53511
Get Directions
Contact
Brian McClintic
(608) 302-4028
mcclinticb@wausauhomes.com

Hours
Monday - Friday 11:00am - 5:00pm CST
Evenings and weekends by appointment
About Our Design Studio
The Wausau Homes Beloit location is one of our premier home builders in Southern Wisconsin that offers inspiration on everything from floor plan layouts to custom interior home selections. With advanced home rendering technology, we'll walk you through your custom new home before it's even built. Each home is designed your way, with a firm price, and always built on time, that's our promise.
Each Wausau Homes Builder is an independent local business, so you can have the confidence and ease of dealing with a local builder. Plus, each Wausau Homes Builder has access to all of the Wausau Homes design tools and Wausau Homes components.
About The Area We Serve
The Beloit Design Studio is a qualified Wausau Homes builder in Wisconsin. We build new homes in Rock and Green Counties, and to the South in Winnebago County, Illinois. We specialize in residential construction from Fulton, through Janesville, Beloit, and Rockford along with all the local communities surrounding us. Start planning your new home today and learn about our unique home construction process, costs, custom floor plan options and more.
THE BEST WAY TO BUILD YOUR CUSTOM HOME
Our Wausau Homes three-step building process ensures your custom dream home will be built Your Way, with a Firm Price, and delivered On Time. Our streamlined panelized construction process allows us to frame a home in 1-5 days, depending on the size of the home. Materials are up and under the roof faster, virtually eliminating exposure to the elements. With our construction timeline, you will see that we can get people moved into their new custom homes faster than any other builder out there!
READ REVIEWS FROM OUR CUSTOMERS
Check out what our customers are saying about our quality and customer service by clicking the Guild Quality badge below.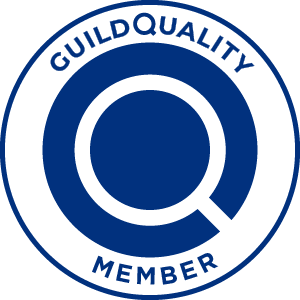 "Brian and Mitch made the home building experience easy and fun for my whole family. They were always approachable and gave immediate and timely responses."

Mathew C.
"Many people have asked us about the process and we continue to recommend them."

Ann J.