Contact Information
Address
Wausau Homes Elkhorn
206 E Walworth St
Elkhorn, Wisconsin 53121
Get Directions
Contact
Greg Ingersoll
(262) 379-1616
ingersollg@wausauhomes.com

Hours
Monday-Friday 9:00am - 4:00pm CST
Evenings and weekends by appointment
About Our Design Studio
Wausau Homes Elkhorn is a premier home design studio that offers inspiration on everything from creating a custom home plan to selecting the interior and exterior features that will make your home unique. Custom builder and owner, Greg Ingersoll, has been working in Southeastern Wisconsin for the past 3 decades. His experience spans all phases of building, remodeling, and land development, to managing condominiums in the prestigious Geneva National Golf Community in Lake Geneva, Wisconsin.
Greg is well versed and experienced in complete tear-down and rebuild projects. His extensive background has ensured that he knows how to manage all phases of the building process. Wausau Homes Elkhorn is ready to turn your dream into reality. With advanced 3D home rendering technology, they'll walk you through your custom new home before it's even built. Once the home is created your way, we're the only home builder that will provide a firm price and move-in date ensuring no surprises during the building process.
Each Wausau Homes Builder is an independent local business, so you can have the confidence and ease of dealing with a local builder. Plus, each Wausau Homes Builder has access to all of the Wausau Homes design tools and Wausau Homes components.
About The Area We Serve
The Wausau Homes Design Studio is located in Elkhorn, Wisconsin. We are the leading home builder in Walworth County, which includes Delavan Lake, Lake Geneva, East Troy, La Grange, Elkhorn, Williams Bay, and the surrounding communities. Whether you're looking for a starter home, or building your lakeside log home retreat - Wausau Homes Elkhorn is a centrally located builder in the Lake Geneva area ready to create your dream home.
Much of Walworth County is referred to as the Geneva Lakes area, boasting some of the best recreational lakes in Wisconsin: Geneva Lake, Delavan Lake, Whitewater Lake and Lauderdale Lakes, to name a few. Elkhorn is host to the Walworth County Fair, rated as one of the top 10 county fairs in the nation. Elkhorn is at the heart of Walworth County and is the county seat, featuring a thriving business and industrial park. Schools in Lake Geneva and Elkhorn are consistently rated as some of the best in Wisconsin and have even been nationally ranked. Walworth County has dozens of public parks, and miles of trails on the White River Trail and Kettle Moraine, perfect for biking and hiking. Walworth County is also home to UW-Whitewater, one of the nation's top business schools. Often referred to as "Chicago's Playland," Walworth County is just a 45 minute drive from Milwaukee and approximately 90 minutes from Chicago.
READ REVIEWS FROM OUR CUSTOMERS
Check out what our customers are saying about our quality and customer service by clicking the Guild Quality badge below.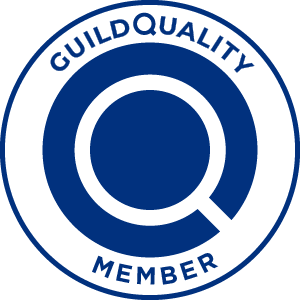 "This was a most remarkable six hours....watching a whole house being built, and so carefully! Very impressed!"

Linda Patterson Siert